So... *ehm* because Taka asked me and somehow I managed to get some spare time... so from now on I will write a blog post about newest Sket Dance manga based its English translation. I didn't write a review based the newest chapter out in Japan because I don't really understand Japanese and I don't read Chinese translation (yet I know nothing about Chinese). Sometimes, I read the RAW and Chinese translation to understand the plot.
My English is not good, but I try my best.
Plot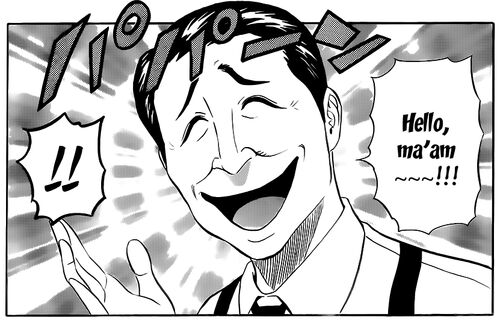 While the Sket Dan practicing ball lifting at a department store (why the hell did they do that there?!), Bossun breaks a merchandise from a salesman. While the salesman left his place, he orders the Sket Dan to watch his store and do a proper demo for the salesman's items. As this is their first time doing part time job, can they sell the items without causing more trouble for themselves?
Impression
Beware of spoilers.
I just knew that the Sket Dan trio never done any part time job before.
It's not Sket Dance if there's no weird stuff. Like "Super Absorbent Towels", it does not only absorb visible water, but also the water within your body. To use it maybe we need gloves.
Despite from its appearance, the "Menchi-kun" is useful enough XD.
The salesman reminds me to my mother when she selling items to people. He also kind enough to get the merchandise replacement by himself and didn't ask for compensation.
Next chapter is titled "The Student Council Orientation Training Camp" which is about the Student Council who went camping. I haven't read it yet so... yeah... you know.
"Demons' Demonstration" at Sket Dance Wikia. Please support the Sket Dance series by buying the manga when it comes out in your country legally.
Community content is available under
CC-BY-SA
unless otherwise noted.