Plot
While Bossun and the Sket Dan are helping the basketball team due to Jogasaki's little accident, Saaya works up the courage to confess to Bossun. Meanwhile, Sojiro thinks Saaya is still in love with Tsubaki.
Can Bossun and the gang help the basketball team and what will happened between Saaya and Bossun?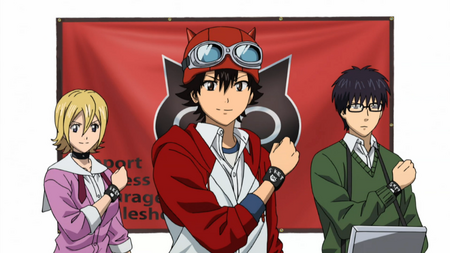 Watch this show legally on Crunchyroll.
Verdict
Beware of spoilers!
Good
Being the final episode, everyone except Queccion, Enigman, and a few others appear for the last time.
Seeing Teppei and Jogasaki getting along and working together in the basketball team brings closure to the two. In the first episode, Teppei was bullied by Jogasaki, and on the last episode, we get to see their past.
With Sojiro's usual misunderstanding of Saaya, Saaya finally confessed to Bossun about her feelings for him.
Bad
Faithfulness to the manga: I'm not up to speed with the manga like you guys, and I know that the anime has neglected a few key scenes by messing with the chronological order of the manga's story.
It wouldn't hurt to see the basketball or more of Momoka's singing since the filler just padded Saaya's love confession chapter with Saaya's observation of Bossun and the gang working hard.
The training and Switch with Otakura and Reiko's scene didn't add anything interesting stuff.
Overall, it was a good episode, and for fans of Saaya, you'll love this one. With so much supporting characters appearing, it's difficult to give them attention. They just serve as padding material for Saaya's confession part. The basketball request is nice to have since it sheds light on two minor characters, but the other scenes lack humor or anything new/interesting to add.
Thanks
Thank you everyone for reading this weekly report. Please support the franchise and the wiki pages at Sket Dance Wikia and Anime Vice. Also, please follow the wiki guidelines and don't plagiarize it.
Wiki Progress
New Wiki Editors that need help: User:Michael Anwar-san and Hime Fujisaki.
Community content is available under
CC-BY-SA
unless otherwise noted.