Welcome everyone to the Weekly Sket Dance report! After Sojiro and Shinba are gone, Sasuke fills up Sojiro's spot as president while Mimori becomes vice president. We have two empty seats for two new characters.
Plot
Due to recent muggings of students by a ninja named Kagerō, Bossun and Himeko set up a sting operation where they plan to catch the ninja. In the second story, Tsubaki and his student council have a new member on their team, Hani Usami who has her own surprising quirks.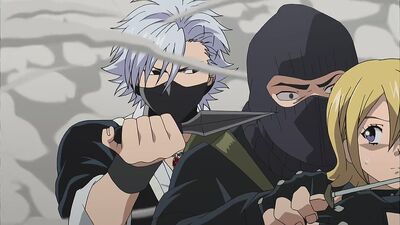 Can the Sket Dan team nab the ninja and what is Hani's quirky secret?
Verdict
Beware of spoilers!
Good
We have another tough character besides Himeko and Sasuke. They should do another tournament on skills. I loved the Gachinko Vivage rounds for Shinzo, Switch, and Bossun's match. Kiri Kato is cool ninja and the 2nd character with unreal hair color. Quecchon is the first one.
2nd new character is Hani Usami who has two personalities. She reminds me of Launch from Dragon Ball. The exceptions is that Hani changes into Bunny mode when a man touches her, and she changes into Hani Usami mode when a woman touches her.
Bad
Hit or Miss with New Characters: You either hate, love, or be neutral with them. Every Sket Dance character has a quirk. Kiri Kato might be too cliche of a ninja for you or Hani Usami's personality might rub the wrong way. Plus, if you hate fan service, you probably won't like her.
Bizarre
Besides Hani Usami, Shinzo seems to be a masochist for Saaya's verbal abuse. Only in the anime, Shinzo is implied to like Saaya.
Roman is super strange. No one seems to mind she is busting through walls.
For some reason, the manga has Kiri Kato know Himeko's Onihime identity.
If you love these characters, this episode would be great for you. Overall, this episode is good because you got new characters with some quirks of their own.
Thanks
Thank you everyone for reading this report! Please support the anime and the wiki community, both Sket Dance Wikia and Anime Vice. Also, give them recognition for their hard work.
Also, I contacted the staff to fix the image gallery glitch. It turns out our image gallery was not updated like the other wikia communities.
Utipintar came up with a marvelous idea, List of Sket Dance DVDs. We just had problems with the table columns width size since images distort them.
Wiki Progress:
Community content is available under
CC-BY-SA
unless otherwise noted.