Welcome to the Weekly Sket Dance report! It's another weird episode this week.
Plot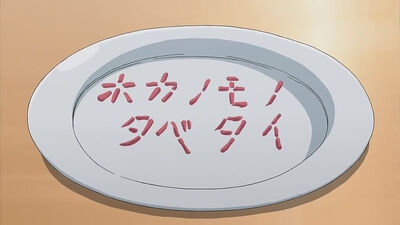 Switch introduces his latest invention, Braviera, that can pick up animal's thoughts and translate it within a 5 meter radius. Things go wrong when Braviera starts picking up thoughts of the Sket Dan crew, and the Sket Dan start getting into an argument. Will the Sket Dan kiss and make up?
In the Roaring Laughter Tsukkomi Battle, Himeko faces off with Komiyama to help Momoka and show that she is the best Tsukkomi. Will Himeko win?
Verdict
Good
Even thought the Sket Dan gang thought Hosuke say those kind words, it turns out to be Roman. She thinks some weird stuff.
Bossun's bashful face is damn contagious.
Bad
The first part of the story is weak and a bit slow while the 2nd story is the most funny one.
Awkward fan service: During the beginning, there is an awkward shot where Saaya just walks up to Bossun who is looking at her chest.
Overall, this episode is good since the first part is a bit slow. It's a bit of hit or miss with some folks because some parts are funny while some are not.
Thanks
Thank you everyone for reading this report. Please support the franchise and the wiki editors who are working hard in Anime Vice and Sket Dance Wikia.
Wiki Progress
Thank you.
Community content is available under
CC-BY-SA
unless otherwise noted.