Welcome to another Sket Dance weekly report! I'm Takashichea, a wiki editor and Sket Dance fan, and I'm here to give you a run down on this episode and a progress report on the wikia community.
Plot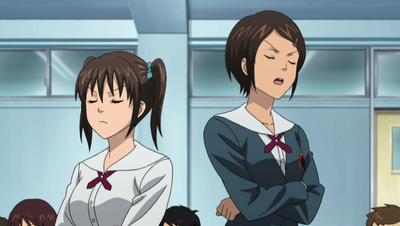 Kaimei High School has a special field trip to Niigata, and when the teachers asks how the rooms are split, Chiaki suggests doing a giant rope skipping competition. With the rooms decided, Saaya is wondering about Bossun and Himeko's relationship. On the bus, Himeko gets motion sickness, and Chuuma showcases his drugs. He has Bossun and Tsubaki test the Exchange drug while Hime takes medication for motion sickness. What would happen next?
Verdict
Good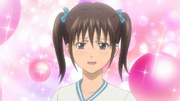 A Nice Change: It's not an episode about a request or the misadventures of Sket Dan. It's an episode about a school trip, something different for a change.
Saaya's Spotlight: Saaya seems to be the center of attention in this episode. She has become more amiable with her classmates and the Sket Dan. For fans, she got a little cuter.
Shipping Questions: Like Jin, Saaya asks about Bossun and Hime's relationship, and Switch is the guy who answers the same question. Bossun and Himeko's relationship have some implications and that leaves room for speculation which is great.
Bad
I couldn't find anything that weren't annoying. For people who hate tsunderes, this episode might not be great since there's another tsundere character, Horii Kanako.
Bizarre
The opening sequence has some new changes. Instead of Sasuke receiving a picture from Bossun, it's Saaya. She gets picture of Hosuke from Bossun.
Chuuma's pill case is full of surprises. I love how they end with a cliffhanger since Bossun and Himeko switched bodies for the whole school field trip.
Chiaki is like a vacuum as she eats a whole bag of chips in seconds.
Overall, the episode is funny and enjoyable with some shipping stuff and packed with a nice surprise with Chuuma's inventions.
Sket Dan's Blush Time!
Thanks
Thank you guys and gals for reading the Sket Dance weekly report. Please support the Sket Dan Wikia community and the Sket Dance franchise by doing some wiki edits or blogs.
Wiki Progress
Lynxian: She created Mao Kamiya's page and uploaded a cool image of Hime impersonating Daisy.
Takashichea: I finished categorizing manga title pages up to volume 2 and the same thing for volume images up to volume 10. Due to the recent changes to the manga's infobox, I had to move the bullet lists of characters back to the infobox. I did chapters 110-112, 116-119, and various chapters that were covered by Ep. 55-61.
Sket Dance Wikia
Community content is available under
CC-BY-SA
unless otherwise noted.