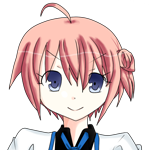 My internet name is Airetta Finnele Aurelius. Aurelius was adapted from Vayne Aurelius' name. Because I fell in love with him in first sight :">. I was born in Bandung (yes, I'm an Indonesian :D, that's why my English is not good), on July 1st. But I am eternal 12. I love blogging, stalking, and... sleeping. Some friends said I'm a real lazyboner.
My favorite characters in Sket Dance: Himeko , Bossun , and Switch . Yeah, I really love Sket Dan :D
My current watch-list anime are Kamisama Hajimemashita, Tonari no Kaibutsu-kun, Shin Sekai Yori, Chuunibyo Demo Koi ga Shitai!, BTOOOM!, K, Kintama, Zetsuen no Tempest, CODE:BREAKER, Kokoro Connect, Little Busters!, and Sword Art Online.
I have no specific condition to be in love with a series. When I started to curious about the character, setting, and story, that means I like it :D. I just don't like heavy guros, and a/n anime/manga where the female cast are not balanced with male cast (dat harem anime, but reverse harem is awesome). I don't like girls.
Favorites
Artist: Kantoku, eefy, Akane Ikegami, Urabi etc.
Singer: LiSA, Hanatan / YuRiCa, Team Nekokan featuring Junca Amaoto, Lia, UVERworld, NICO Touches The Walls, The Sketchbook etc.
Character: Kagura (Kintama), Rin Natsume (Little Busters!), Momiji Satomura (fortissimo), Ushio Shihigatani (Tokeijikake no Ley-Line), Minami Shimada (BakaTest), Iori Nagase (Kokoro Connect), and bishonens.
Voice Actor: Hiroyuki Yoshino, Kenichi Suzumura, Nobuhiko Okamoto, Takuya Eguchi, Miyu Irino, Jun Fukuyama.
Voice Actress: Rie Kugimiya, Eri Kitamura, Mariya Ise.
Community content is available under
CC-BY-SA
unless otherwise noted.