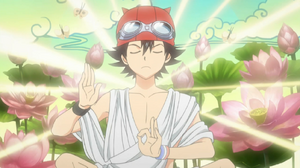 I'm a college student whose first wiki editing experience was at Anime Vice. I became part of three teams. One team called Team W.I.K.I. Nation is a team working on Sket Dance. As a wiki editor, I use a lot of resources. I came here to help out, gain some experience, make both wikia and anime Vice a better place, and to make some friends.
How I got into Sket Dance is when my team member, Piface314, came back and asked Anna and I to try it out. I tried the first two episodes with my little sister, and we loved it immediately. We had a team project from that day.
Status: Finished the Fall 2013 Guide at Anime Vice with my teammates!
Working on Anime Vice and To Hollywood and Beyond Wikia. Sorry, I will try to edit in this Wikia at least once a week.
Current Wikia Projects: Sket Dance and Rave Master
To Do List:
]], and SPIRIT DANCE (episode)
Write up October's Wiki Progress Report
Work on School Trip Rhapsody arc for Saaya, Bossun, and Himeko.

Special Pages:
Other Wiki Editor's Account
Anime Vice's Projects
In Anime Vice, I had a lot of projects. I'm still new to the wikia sites. With school and Anime Vice, I have to manage my time a better. Sometimes, I end up overworking. I work on episodes, volumes, characters, and more with my teams. During Fall 2011, I did the weekly reports to talk about the anime and its wiki work for the sake of my team.
Please see Team W.I.K.I. Nation's Wiki Vitae List for a summary of their works. I hope to share that with this community here.
Wikia's Projects
Top Priorities
Sket Dance - Help out with the episodes and characters. It's a big one here since it reminds of Anime Vice's situation here.
Rave Master - Help out with the episodes.
Btooom - Work on manga chapters.
Accomplishments
2-5-12 - All of Volume 6's chapters have been created. So far we have 6 volumes with all of its chapters created. For anime, all 43 episodes have its page created. It thanks to Lynxian, other wiki editors, and I.
2-6-12 - 100 edits
2-7-12 - All of Volume 7 and its chapters is created with its infoboxes.
3-17-12 - All of Volume 10's chapters have been created and has its infobox with summaries.
4-7-12 - 500 edits reached.
4-13-12 - Sket Dance Wikia has reached 500 pages! Thanks to hard working wiki editors in this community.
4-24-12 - Lynxian had made me an Admin on that day.
5-8-12 - 1,000 edits reached.
Around 6-9-12 - 1,500 edits reached, and Sket Dance Wikia has over 800 photos. Though, I don't have the exact date when we had over 800 photos.
6-14-12 - Volumes 1-10's images have their Fair Use and category added. Plus, I added fair use and Lynxian's manga title page category to chapters 1-17 by this time.
6-29-12 - With the help of Balthierfan and Utipintar, we finished the School Trip Rhapsody story arcs, both manga (Ch. 131-138) and anime (Ep. 62-64)
7-11-12 - I finished categorizing the volume covers 1-25 while added their Fair Use Rationale. By this time, 36 Manga Title Chapters are organized in the Manga Title Images Gallery with their Fair Use added. I'm still adding character galleries.
7-12-12 - 2000 edits reached. It has been five months that I have served the community.
A day or two before 8-30-12: 2,500 edits reached. I don't know the exact date, but I will count back 68 edits to find out. Balthierfan and Utipintar are doing well, but they don't seem to communicate with each other. Yet, they work well together without direct communication.
10-6-12 - 3,000 edits reached. With the anime ended, I had more free time to organize the images and fix things.
May-June 2013:

Finished rewriting the Btooom! episode summaries with WhimsicalDreamer.
Finished episode summaries for Magi Wikia with the help of teammates.
Finished rewriting episode summaries for 2-5 in Arcana Famiglia Wikia.
Finished rewriting all even episode summaries for Campione Wikia.
Misc Notes
2-22-12 - I found the list of community members from Rave Master Wikia's main page, so I changed its HTML to Sket Dance. Viola! I see how many people did this community had. Here's the Sket Dance's list of users.
3-21-12 - It has been over a month since I worked on Sket Dance wikia and in other wikia communities. I have to make a journal on my experiences to compare the wiki editing experiences in Anime Vice and the Wikia communities. The topics include walls, wiki activity, profile's wiki submissions/contributions log, template boxes, codes, blogs, wiki points vs editing points (add more). I did notice that adding a page and an infobox grants one point.
3-29-12 - Added note about the editing point system. It doesn't matter how much text you add. It's how many times you press publish.
Community content is available under
CC-BY-SA
unless otherwise noted.