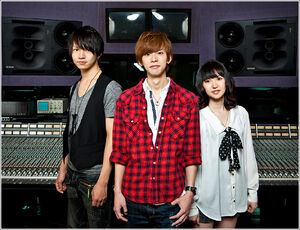 The Sketchbook (ザ・スケッチブック) is a real-life band which was created through The Sketchbook Project and is named for the band formed by the Sket Dan during the Kaimei Rock Festival. The band has been active since the formal announcement of their formation in July 2011, and have performed the vast majority of opening/ending themes for the Sket Dance anime. They are affiliated with avex entertainment. They'll be released their first album titled "Sketchbook", which contains all of their song in Sket Dance anime and includes new songs.
After the their last concert at Tatsuya O-West and on March 23, 2015, the band announced their disbandment because each individual want to focus on their own dreams. The band members thank their fans for their support over the years. [1]

Members
Hiroshi Tada (多田 宏, Tada Hiroshi)
Position: Vocals & Bass
Birthday: February 1, 1988
Gender: Male
Bloodtype: A
Nickname: Hiropin (ヒロピン)
Hobbies: Writing & composing songs
Special Skill: Sports in general
Trivia: He doesn't like tomatoes, but seems fine with ketchup.
Riko Kohara (小原 莉子, Kohara Riko)
Position: Guitar
Birthday: February 3, 1990
Gender: Female
Bloodtype: O
Nickname: Rikopin (リコピン)
Hobbies: Cosplay
Special Skill: Cooking
Trivia: Tomatoes are her favorite food, so there are a lot of pictures on the official blog taken of her holding tomato juice. She dislikes uncooked rice.
Yuu Watanabe (渡邊 悠, Watanabe Yuu)
Position: Drums
Birthday: April 24, 1988
Gender: Male
Bloodtype: B
Nickname: Gummi Prince (グミ王子, gumi ouji)
Hobbies: Reading manga & eating sweets
Special Skill: Yo-yos
Trivia: His nickname comes from the fact that he hoards gummis, they're his favorite food, and every time he goes to a live performance, fans seem to give him tons of them. He dislikes carbonated drinks. In junior high school, he joined the wind instrument club and that's around the time he started playing the drums.
Discography
Singles
Side B Songs
Album
External Links
References
Community content is available under
CC-BY-SA
unless otherwise noted.