Smile & Smash is the song used in the second episode of the Sket Dance SD Character Flash Anime. It is sung by Himeko's seiyū Ryōko Shiraishi.
Video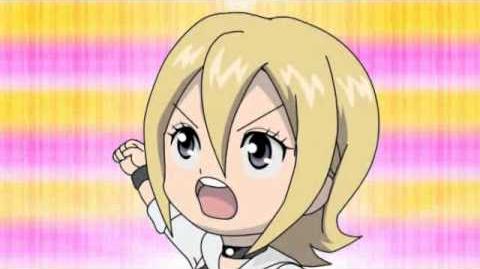 Lyrics
<poem> Smile and Smash the Pretty Strong Princess! Yay! Let's go! Waru wa, buttobashite. Boke wa, tsukkonde. Ame wa, kuchi ni kuwae. Missu wa, gomakashite. Jiman, no kinpatsu. Kaze ni, nabikasete. Chotto, oretatte. Sugi ni, fukkatsu da. Nani ittemo tsukkonde. Toki ni wa uchikonde. Soredemo atashi wa makecha ikenai. Yakusoku dakara! Makiokoshi'tte SENSATION. Okawara re no shitenron. Itsumo, onaji, egao. Kako no namida, furikette. Minna de assume da to. Smile Smash. Smile Smash. Get set GO! Nanishitenen?!
Trivia
In episode 6's "clubroom talk corner", Switch plays this song on his laptop and Himeko comments that the voice sounds familiar.
Community content is available under
CC-BY-SA
unless otherwise noted.