Welcome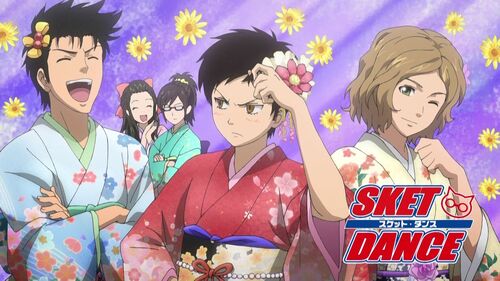 Sket Dance database that anyone can edit!
14,883 edits to 893 articles since December 2010! You can help us by contributing!
Please note that this Wiki contains many SPOILERS regarding the Sket Dance series. Read at your own risk!
Why not check out the Official Anime Site or the Crunchyroll Channel?

---
Latest Chapter: #287:
(the summary below contains spoilers. Highlight to view):
During the ceremony, Principal Genzaburō starts singing which causes the rest of teachers to sing as well. During the song, Bossun recalls fond memories of him and Switch back then. After Kiri gives his speech, Switch steps to the podium to give a speech.
Latest Episode: #77. The Campus SKET (Then)

In this final episode, the Sket-dan does what it does best... help the students of Kaimei Academy! But there's also time for potential romance, as Saaya sets her mind on declaring her true feelings...

Sket Dance Wikia's Weekly Episode Reports

Sket Dance Wikia's Manga Chapter Review

September 7, 2012: The voice cast of Himeko, Ryōko Shiraishi celebrated her 30th birthday which was also her wedding day. Congratulations! Please see blog.
September 25, 2012: Sket Dance anime is approaching its last episode. See news blog for more information.
October 9, 2012: Sket Dance will get an OVA bundled with its manga, released next spring. Announced at Sket Dance's premium event "Hirakimei Gakuen Goya-Sai", held on October 8, 2012. For further information stay tuned with Weekly Shonen Jump. See Blog.
November 6, 2012: The Sket Dance Wikia's wiki archive for 2012 is published and updated by admin Taka until the end of this year. Come over and celebrate the achievements of Sket Dance Wikia's wiki editors.
January 3, 2013: The OVA that released on February takes story from " The Sister Who is Worried About Her Brother Who is Worried About His Sister Worries Her Friends" arc.
June 10, 2013: Kenta Shinohara has announced that Sket Dance manga will end in volume 32. Please see News, chapter 288.
Help Wanted: Sket Dance Wikia needs editors who knows Japanese. Please see Blog.
November 11, 2013: Sket Dance Wikia celebrates Pocky Day!

Music
In the original Akamaru Jump oneshot, the " T " in SKET stands for "team" whereas in the serialized manga, it stands for "troubleshoot".
Community content is available under
CC-BY-SA
unless otherwise noted.