Roman Saotome (早乙女 浪漫, Saotome Roman) is a frequent visitor to the Sket Dan who loves old-fashioned shōjo manga. She won an honorable mention for her manga Sudden Temptation in the Betsumar shōjo magazine.
Appearance
She has brown eyes and long black hair that grows past her nape and shoulders. She has side braids.
For her uniform, she wears a pink beret.
Personality
Roman acts very much like a typical shōjo protagonist and often breaks the fourth wall to narrate her own life. She is overall very cheerful and willing to lend her help to others, though her unique brand of help isn't always effective. Though she loves shōjo manga and is a senior in the Manga Club, she is comically horrible at drawing and her storylines often make little to no sense.
Major Story Points
The Prince of the Hill
Gachinko Vivage Battle
Special Abilities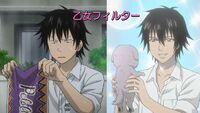 Otome Filter (乙女フィルター): A perspective which allows Roman to see the world in a typical shōjo art style. As a result, everyone and everything looks prettier than it is in actuality and even a bedraggled Pelollipop towel can appear to be a wet puppy. Often the Otome Filter appears with a gauge that can be increased to make even the ugliest person look handsome, as with Tadokoro during the Gachinko Vivage Battle. Additionally, she can use the Otome Filter to manifest elaborate backgrounds and scenery (castles, old French towns, etc.) which others can see and experience.
Relationships
Roman refers to him as "my prince" and he once saved her from being hit by a truck. She might have a schoolgirl crush on him, though it is not expanded upon much. She breaks the 4th wall by saying her character is made to be girl that fall in love with Bossun.
They're both in the shojo manga club, Fumi sees Roman as an expert in manga, Roman thinks Fumi is very talented and sometimes even fear she would become a better a manga artist than Roman, besides this, Roman always want the best for Fumi's manga.
They used to be in the manga club until they split up due to creative differences, Roman and Magata have a mutual dislike for each other's mangas and have a notorious rivalry. After Roman wins the manga contest orchestrated by Kezuka. They befriend each other and their mutual dislike seems to disappear.
Since they're both friends of the Sket Dan it can be implied they're both in good terms with each other. Roman agrees to help in the play along with the Sket Dan in order to help Yabasawa. Later in Shooting Gang Star Etc... Roman is shocked and presumably offended of being confused with Yabasawa implying Roman might not have a positive view of Yabasawa. In The Time I Fully Came to Know Peeping... Yabasawa serves as a judge in Roman and Magata's manga battle and she admired Roman's manga.
Quotes
Etymology
The name Roman means "romantic" (浪漫) in Katakana.
Roman's surname Saotome means "already, now, early" (早) (sa) and "maiden" (乙女) (otome).
Trivia
Gallery
Community content is available under
CC-BY-SA
unless otherwise noted.