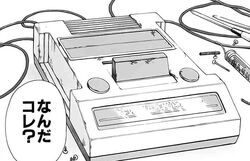 The
Fancy Yunpyoter
(ファンシーユンピョウター), or "Fanyun" for short, is a gaming console which overheats if used for over 4 hours straight. It is a take-off of
Nintendo
's
Famicom
(originally abbreviated from "family computer"), and even the game cartridges look the same. Supposedly it was named for the action star
Yuen Biao
. The console has only one game,
Special Mariko Broken
, and was given to
Yamanobe-sensei
by
Master Won
. The console controller has a large number of buttons, labeled A through U. Rather than a standard
D-pad
, there is an "inverted T pad", which lacks a directional arrow for down.