Several times throughout the series, characters are placed in an alternate setting with no connection to the main plotline. Though the cast keep their usual personalities, their circumstances and environment create some differences in character. These alternate universes are generally humorous or silly, and frequently serve as a transition between serious chapters and more comical ones.
Setting: Feudal Japan (Edo Period), with ninjas. Based heavily on the setting and dress styles of Naruto.
Character Roles:
Storyline: The Nusutto Dan are called to help Chū-san, whose daughter Roman has been carried off by the local lord. Not wanting her to become part of the lord's harem, Chū-san requests that the Nusutto Dan steal back his daughter (and some riches) from the lord's castle.
Setting: Outer Space.
Character Roles:

The Sket Dan are a poverty investigation team, but also one of the strongest fighting groups in the universe. Bossun is the ship's captain and wields a ray gun. Switch is a humanoid robot.
Tsubaki is the prince of the planet Papepp and speaks in an unusual fashion with "p" as the starting and ending letter of almost every word, thus frequently requiring translation. His name is spelled "Tsubaaki" and he has antennae and pointed ears.
Yamanobe-sensei is the king of Papepp and Tsubaki's father.
Mimori is Tsubaki's fiance, also from Papepp.
Agata is the captain of a group of space pirates from the planet Nanenn. His name is spelled "Aagatta" and he has horns, an eyepatch, and a scar between the eyebrows.
Setting: Kindergarten
Character Roles: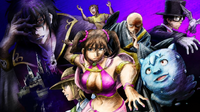 Setting: Dragon Quest-like World
Character Roles:

Switch is a magician.
Enigman is "A-chan."
Saaya is a dancer.
Tsubaki is a priest monk.
Himeko is a farmer.
Bossun is a slime.
Setting: Outer Space.
Character Roles:
Community content is available under
CC-BY-SA
unless otherwise noted.